5S method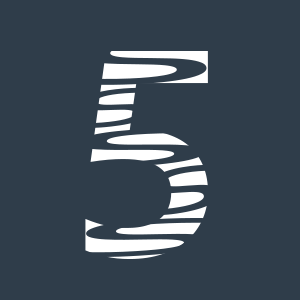 The 5S method (or five S model) was formalized in the industrial workshops of Toyota, a company that is remarkably active in formalizing work methods, it allows improving the organisation of a workspace.
It is a simple method, easy to implement and relevant in many contexts: historically the 5S's were first implemented in production workshops, but the principle can be extended to an open space, a work plan, an office and even a garage.
The point by point explanations of the 5S method diverge from one author to another, nevertheless principles addressed are always the same but "classified" differently. This is especially true for the last two points, which are less operational and therefore more easily subject to interpretation.
What is the 5S method?
A principle formalized by Toyota to improve the organisation of a workspace.
What do the 5S mean?
We can associate each S with an action: Sort, Set (in order), Shine (Clean), Sustain, Standardise
What are the objectives of the 5S method?
1. keep only what is useful
2. tidy up according to your use
3. have a clean environment
4. maintain good working conditions
5. involve people
The 5S: origin and definition
It was in the 1980s, during the golden age of Japanese industry, that the world discovered this method.
Although it was in Japan that it was formalized, its origin is American: 5S was born out of TWI: "Training Within Industry", a programme set up by the USA during the Second World War, taken over by Japan at the time of its reconstruction.
Please find below a summary table that will allow you to understand each notion:
| Japanese expression | Associated actions | Finality |
| --- | --- | --- |
| Seiri | Sort | Removing the unnecessary, bringing the useful closer |
| Seiton | Set in order | Optimizing storage |
| Seiso | Clean | Working in a clean environment |
| Seiketsu | Sustain | Keeping order |
| Shitsuke | Formalize and Involve | Transmit good practice and involve those concerned |
Each of the 5S is a stage towards better organisation, the order is chronological although it can be turned upside down according to the operational reality (you can for example start cleaning while sorting).
The strength of this approach lies in its universality, it can be applied in a huge number of contexts:
Specifically suited to a production workshop
On your own desk
Your teenager could use it as inspiration for tidying up his or her room… but there are insurmountable cultural guards in place.
1ᵉʳ S: Seiri / Sort – "Get rid of useless"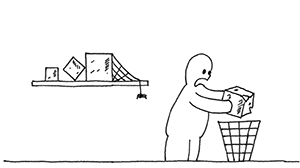 This first stage consists of sorting, with a leitmotiv: something frequently used must be within reach,  move away what is rarely requested.
This principle can be graduated by frequency of use and distance.
| Use | Distance to user |
| --- | --- |
| Continue | As close as possible to the user (even on the user) |
| Daily | Always at hand (on the desk, on the workbench…) |
| Weekly | Stored in the area of use (the workstation, the room…) |
| Monthly | Stored in the service/building |
| Annual | Archived away (basement, remote building) |
| We wonder… | why we keep this, let's get rid of this? |
These gradations are there for example, they will be adapted to your context.
2ᵈ S: Seiton / Set in order – "A place for everything and everything in its place"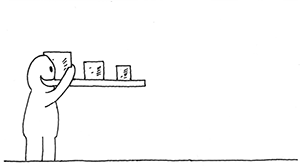 Now that everything is roughly grouped by area we need to make a relevant arrangement, based on common sense rules:
Categorization : alphabetical, by topic, by application…
Security : don't store the chainsaw balanced on a corner of a shelf
Consider the flow and process: components are arranged in order of use
Standardisation: if a tidying is optimized then it might as well be applied in other comparable cases
Accessibility: one must easily find and reach what one is looking for.
Note that the award for best Seiton goes to "the workbench with the tool prints built in".
3ᵉ S: Seiso / Clean – "The big spring clean"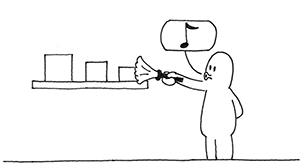 Nothing complicated with this point, the goal is to start a task in a clean environment and to conclude it in the same way.
There is a real need to emphasize the systematic approach:
Restore the work area to its prior state each time a task is completed
Deep cleaning periodically (at the end of the day, week, activity cycle…)
It is also important to associate with it the notion of maintenance: in addition to being cleaned a machine may need to be maintained: a screw to be tightened, a part to be greased… to ensure its proper functioning.
4ᵉ S: Seiketsu / Sustain- "Over the long-term"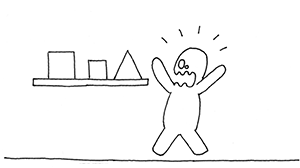 All the effort put into implementing the first 3 S's has produced a working environment best suited to your context. This deserves to be sustained over time.
We have seen the importance of maintaining a clean environment, it is equally important to sort and tidy at all times, in order to maintain an efficient work, in the best conditions.
This will save you time, and spare you the well-known "annual rush" of the big clean-up, which takes up precious time and whose benefits are quickly diluted over time.
There are two complementary approaches:
Continuous approach: you keep the environment clean and tidy on a daily basis.
Events approach: with each change in the organisation, it is important to take a "5S look"
.
5ᵉ: Shitsuke / Formalize and involve: "I have a dream"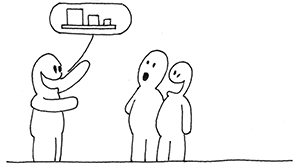 The 5S approach must be adopted by all stakeholders, the following points should be noted:
First of all, it is necessary to make involved people aware of this approach, to explain its purpose, means, methods, responsibilities…
Formalizing helps a lot: in the form of a documented procedure, a table or drawing / poster.
Involve staff, ask their opinion, encourage initiative
The last point is commonly associated with the notion of "doing better", the famous "continuous improvement" that sets the pace for quality management.
Note that we can translate this point by "Self"-Discipline, but this expression can be counterproductive, all depends on the audience.
Consequences and contributions
A few points that should definitely convince you of the value of the 5S approach:
You can expect to improve your productivity
The security of operations is likely to increase
The satisfaction of people can only be increased in a welcoming environment
Your customers and other subcontractors, and even auditors, will have a positive a priori of your business at the mere sight of your organisation
But beware, 5S is at the service of those who apply it, not the other way around. We must not fall into an overly mechanical and rigid implementation where we act "to apply the 5S" having lost sight of their purposes.
Illustration: The 5s method
Find the 5S method illustrated in an infographic, which uses the illustrations from the article, it will blend harmoniously with any type of interior (click to access the A4 version):