Doing a Regulatory Watch for medical devices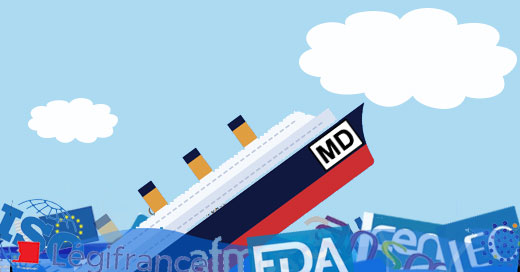 Performing a regulatory watch is a must for regulated industries, such as medical devices or pharmaceuticals. Regulatory watch is often entrusted to the regulatory affairs manager and/or the quality manager, and aims to monitor previously selected sources of information and detect new developments.
This article presents the principles and techniques to perform regulatory watch, it offers examples applicable to the medical device industry.
What is a regulatory watch?
Regulatory watch consists of monitoring a regulatory environment to identify changes and adapt to them.
Why do a regulatory watch?
To ensure product and service conformity with regulatory requirements, especially when approvals or certifications must be granted.
Who does the regulatory watch?
A person must be designated internally as responsible for the watch, most often the quality/regulatory manager. The watch can be subcontracted in part or in full to external service providers.
How to perform a regulatory watch?
Regulatory watch is most often based on a combination of:
1. Manual watch (consultation of sources)
2. Automated watch (automatic feedback of information)
3. Outsourced watch (receiving a periodic summary)
What is a regulatory watch?
By definition regulatory watch consists of monitoring the regulatory environment, to identify new developments, analyze their applicability, analyze the impact and plan actions.
Depending on complexity and resources, the watch is performed in-house, or subcontracted.
How to make a regulatory watch?
The stages during the watch activities are summarized below: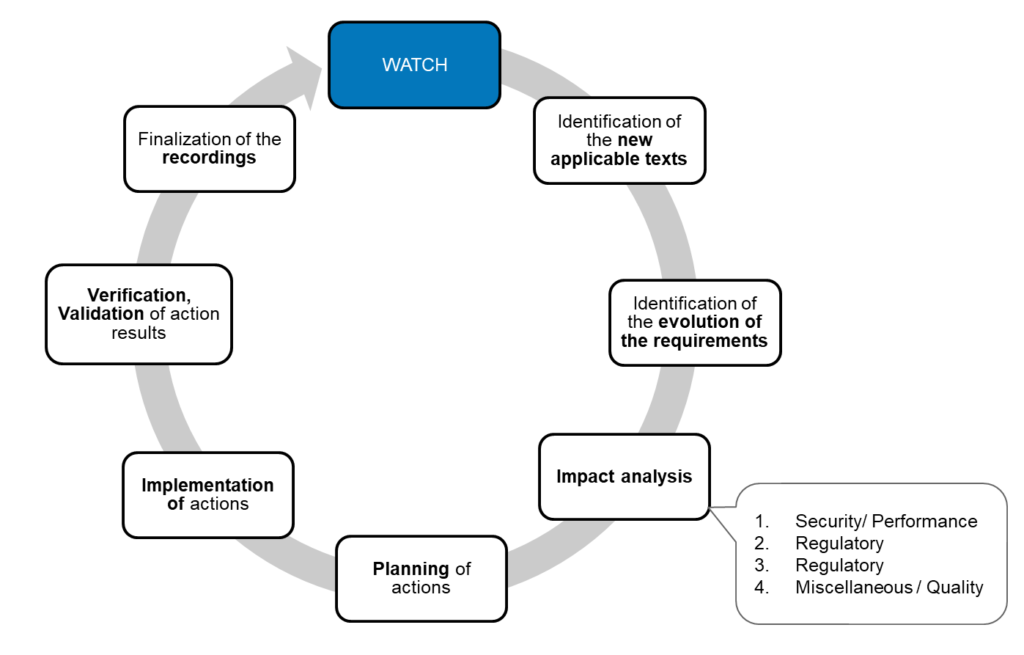 Regulatory watch stages
Plan the watch

Define the sources of information, the information media, responsibilities, means, as well as the monitoring periods and associated records.

Carry out the watch

Use manual, automatic and/or external means

Identify applicable changes

The objective is to identify new or modified requirements and evaluate their applicability.

Analyze the impact

Evaluate the impact of changes according to a risk-based approach, which will justify the level of actions decided.
In the context of medical devices, 4 levels of risks are often used:
1. Patient: impact on security and/or on device performance.
2. Regulatory: impact on the regulatory conformity of products and/or activities, without impact on the patient.
3. Standards: impact on conformity to standard(s), with no impact on the patient or regulatory conformity.
4. Other.

Implementing the new features

– Plan and implement actions.
– Verify and validate the results of actions.
– Record useful data.
These activities are not part of the watch and concern the targeted processes (e.g.: revision of a technical standard that impacts design).
Regulatotion watch
The regulations define the requirements that the company will have to respect, in a very strong regulatory environment.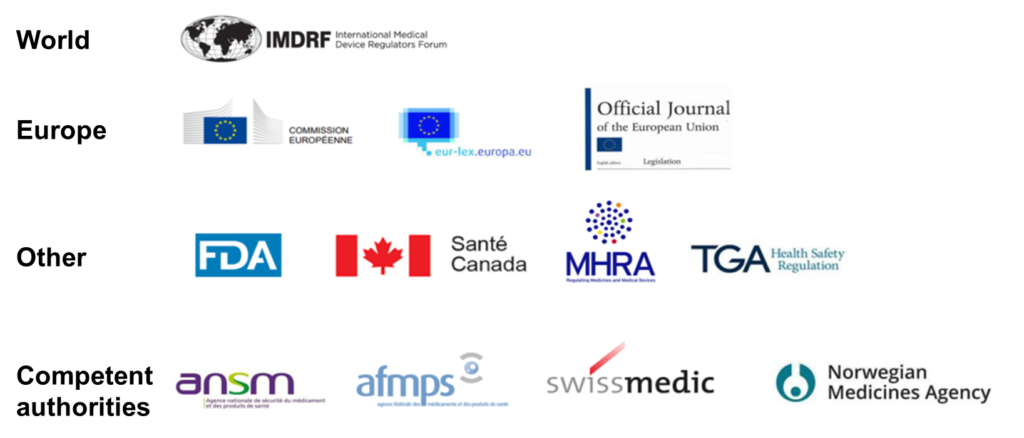 Regulatory areas
In the European context one will monitor the publications of the European Commission and those of related organizations, such as the EMA.
Internationally, each zone has its own regulations: FDA, Health Canada or the TGA in the medical sector will be institutions to watch out for, depending on the target markets.
National regulations
Note that Nations retain control over some of their regulation, particularly in health care : in Europe, member states can amend directives / supplement regulations.
We will monitor information from competent authorities where the prducts are marketed: ansm, swiss medic, afmps…
Examples of regulatory sources in the medical device
International: IMDRF
Standards watch
Standards contain the means to meet regulatory requirements, they remain mostly voluntary.
In Europe, the harmonized standards make a presumption of conformity, they are widely used and therefore to be monitored well.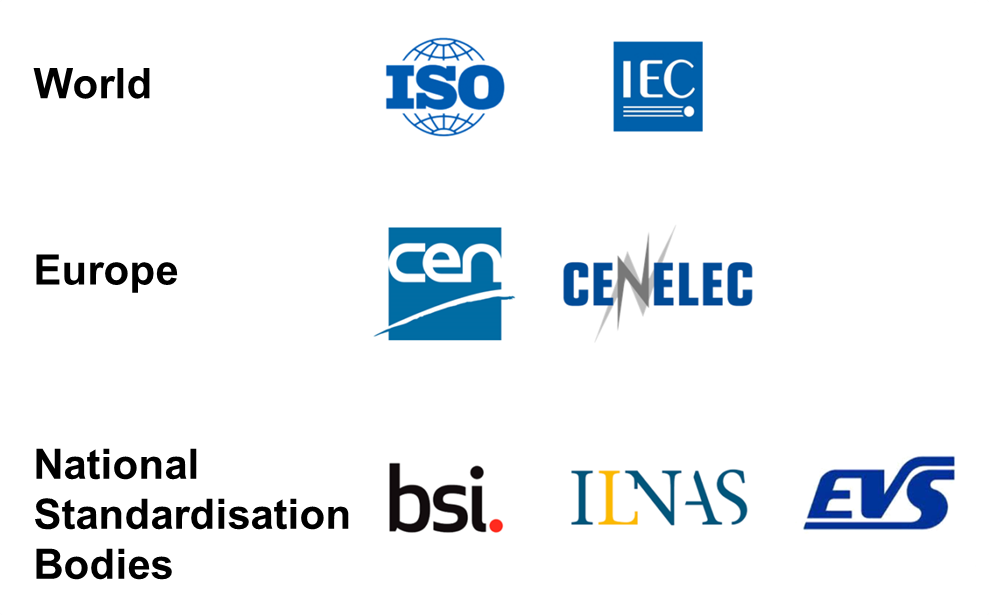 Standardization bodies
Standardization are organized on 3 levels:
International: the ISO and IEC (electronics) standards committees produce international standards.
European: the CEN and the CENELEC (electronics) produce EN standards, taking international standards with forewords and annexes specific to the European regulatory context. The harmonized standards are managed and listed by the European Commission.
National : each country has its own standards body, which itself is a member of European and international bodies: BSI, EVS, ILNAS…
Each standards organization has (sub) Technical Committees that routinely publish the status of their work.
The types of standards
Not all published texts are systematically standards; there are implementation guides, experimental standards… Texts are published at various stages, even at "public inquiry" stages (draft standards) of which quasi-final version are accessible free.
Finally, we will monitor the harmonized standards on the European Commission website.
Examples of sources in the medical device
International: ISO TC 210
Europe: Harmonized Standards
National: EVS
Internet watch
The IT tools allow you to automate a long and repetitive process, it is advisable to use them to support your watch activities!
Pathways to information
The following media are commonly used, the advantages and disadvantages are quickly listed:
| Support | Advantages | Disadvantages |
| --- | --- | --- |
| Newsletters | Often proposed, exhaustive | Can flood and saturate mailboxes |
| Social networks | Identify relevant, even unpublished information | Feeds are quickly polluted, information gets lost, access is sometimes restricted or requires the subscription of an account, requires manual consultations |
| RSS feed | Exhaustive, not polluted | Not always proposed, not persistent |
| Page monitoring | Customized | Must be designed (and validated) internally |
Implement customized automatic monitoring
The automatic page monitoring can save you a considerable amount of time, while ensuring the completeness of the watch, assuming you have identified the relevant sources and validated your tools (as part of the QMS software validation).
The easiest way is to merge several rss feeds, this is possible via simple web browsers or dedicated services and applications, which embed filtering, search, ranking functions…
Insofar as rss feeds are not systematically proposed on the sites, one will resort to feed generation tools, such as Wachete which can also notify you by email.
Finally, a simple and flexible way is to use a spreadsheet, such as Google Sheets. Native functions allow you to retrieve various contents (rss, xml, html, csv… and even json via scripts), other functions allow you to manipulate the data and thus facilitate consultation.
Some examples of Google Sheets functions to import data:
IMPORTHTML: returns an array or list in a web page
IMPORTDATA: retrieves a csv file (spreadsheet type)
IMPORTXML, IMPORTRANGE …
Other examples of functions, to manipulate data: FILTER, SORT, SUBSTITUTE, SEARCH, CONCATENATE …
Examples of watch via Google Sheets
Importing the RSS news feed from the EU in the MD sector: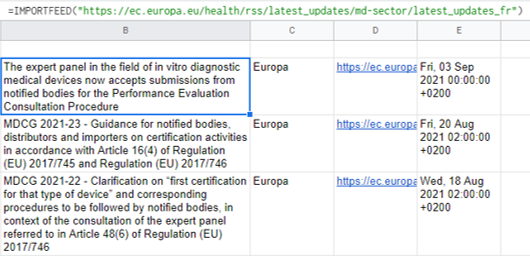 Import of the HTML table of publications from the ISO/TC 150 committee: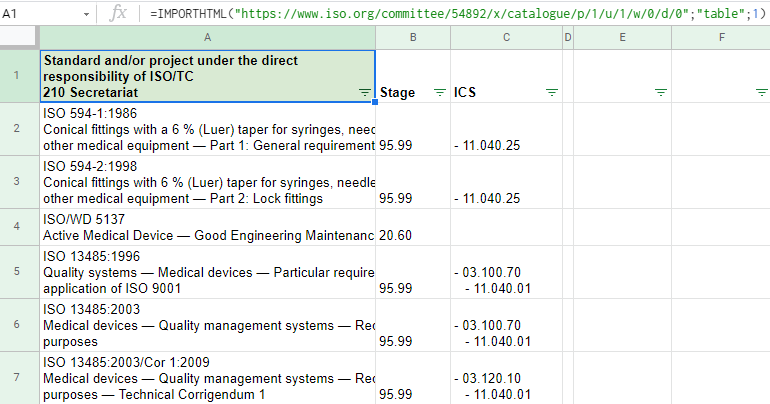 Importing the JSON file of registered economic operators into Eudamed: